Invisalign® Clear Braces - Lakewood, Dallas, TX
Try Our Subtle Plastic Aligners
For the fast-paced lifestyle for some of our patients, the thought of having to wear noticeable braces for a significant amount of time can keep them from pursuing the orthodontic care they need. After all, the last thing someone in the professional world wants is to feel like they're back in grade school. Thankfully, Invisalign can help you accomplish the same, beautiful changes for your smile in a virtually seamless fashion. Dr. Patricia Simon and the rest of our team at Lakewood Orthodontics are happy to provide multiple aesthetic-minded orthodontic solutions, so patients can maintain their confidence throughout the treatment. Keep reading to learn more about Invisalign clear braces in Lakewood, Dallas, TX.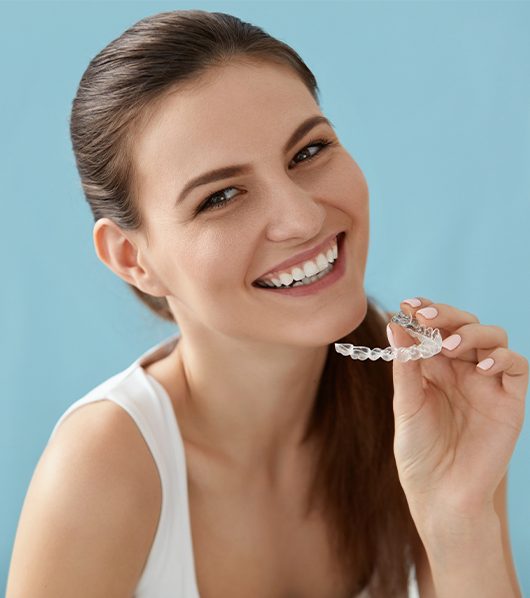 Why Choose Lakewood Orthodontics for Invisalign® Clear Braces?
No Diet Restrictions
removable Aligners for Easy Maintenance
Smooth, Comfortable Treatment
How Does Invisalign® Work?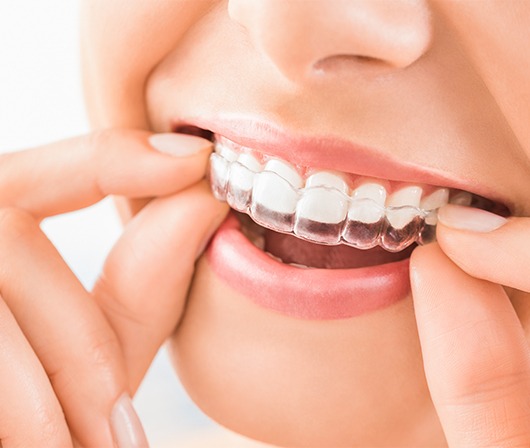 Once Dr. Simon has determined that you're a viable candidate for Invisalign treatment, you'll be provided a set of clear, customized aligners that are virtually unnoticeable when worn. The patient's job is simple—wear each aligner for one to two weeks before switching to the next set, only removing them for eating and practicing oral hygiene. Each aligner represents a different stage of your teeth as they move closer to their ideal alignment, so with every new aligner you switch to, you're that much closer to achieving a gorgeous, straight smile. Patients also need to attend regular check-ups with Dr. Simon about every six to ten weeks so that she can monitor your progress.
With Invisalign, there are no dietary restrictions or special oral hygiene instructions to keep in mind. Their smooth plastic makes the aligners feel very comfortable within the mouth. Best of all, the treatment is usually no longer than traditional orthodontic methods. Contact Lakewood Orthodontics today to set up a consultation! We are happy to serve patients from Dallas, East Dallas, Lakewood and all surrounding areas.