Invisalign® Clear Braces – Dallas, TX
Try Our Subtle Plastic Aligners
For the fast-paced lifestyle of some of our patients, the thought of having to wear noticeable braces for a significant amount of time can keep them from pursuing the orthodontic care they need. After all, the last thing someone in the professional world wants is to feel like they're back in grade school. Thankfully, Invisalign can help you accomplish the same, beautiful changes for your smile in a virtually seamless fashion. Dr. Patricia Simon and the rest of our team at Lakewood Orthodontics are happy to provide multiple aesthetic-minded orthodontic solutions, so patients can maintain their confidence throughout the treatment. Keep reading to learn more about Invisalign clear braces in Lakewood or get in touch with our team .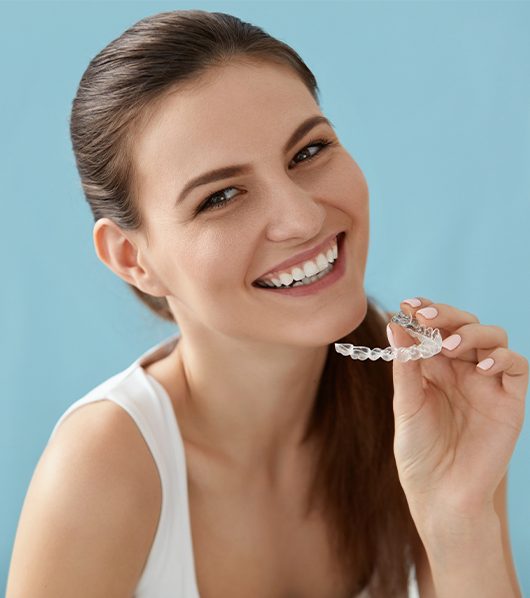 Why Choose Lakewood Orthodontics for Invisalign® Clear Braces?
No Diet Restrictions
Removable Aligners for Easy Maintenance
Smooth, Comfortable Treatment
How Invisalign Works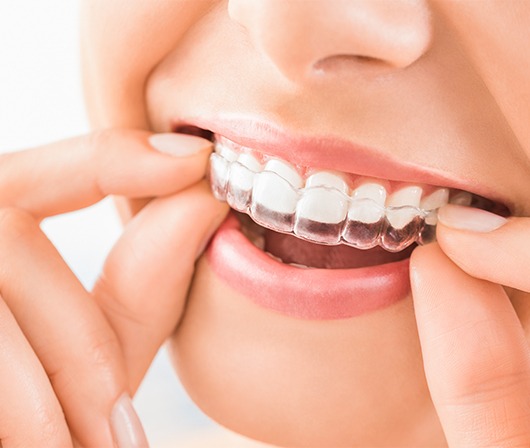 Once Dr. Simon has determined that you're a viable candidate for Invisalign treatment, you'll be provided a set of clear, customized aligners that are virtually unnoticeable when worn. The patient's job is simple—wear each aligner for one to two weeks before switching to the next set, only removing them for eating and practicing oral hygiene. Each aligner represents a different stage of your teeth as they move closer to their ideal alignment, so with every new aligner you switch to, you're that much closer to achieving a gorgeous, straight smile. Patients also need to attend regular check-ups with Dr. Simon about every six to ten weeks so that she can monitor their progress.
With Invisalign, there are no dietary restrictions or special oral hygiene instructions to keep in mind. Their smooth plastic makes the aligners feel very comfortable within the mouth. Best of all, the treatment is usually no longer than traditional orthodontic methods. Contact Lakewood Orthodontics today to set up a consultation! We are happy to serve patients from Dallas, East Dallas, Lakewood and all surrounding areas.
Indications for Invisalign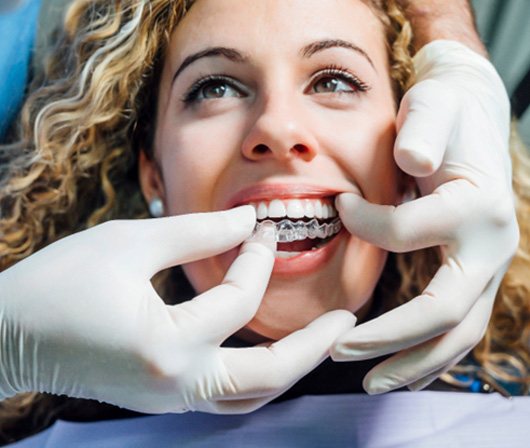 Invisalign isn't just discreet; the clear aligners are able to address a wide range of orthodontic issues, including:
Crowded Teeth
Overcrowding is a common orthodontic problem that can negatively impact the look and function of your smile. Not to worry – Invisalign can gently guide your teeth into their ideal positions, giving you a smile that feels great and looks beautiful.
Gaps Between Teeth
Have spaced-out teeth? Good news: Invisalign can close the gaps in an average of just 12 months! With a properly aligned smile and bite, you'll enjoy boosted confidence, a better bite, and improved oral health.
Bite Alignment
Overbites, underbites, and crossbites are a few bite problems that can make chewing properly difficult. Plus, the uneven pressure can result in additional issues, like teeth grinding and premature wear. Luckily, Invisalign can effectively address this as well!
The Benefits of Invisalign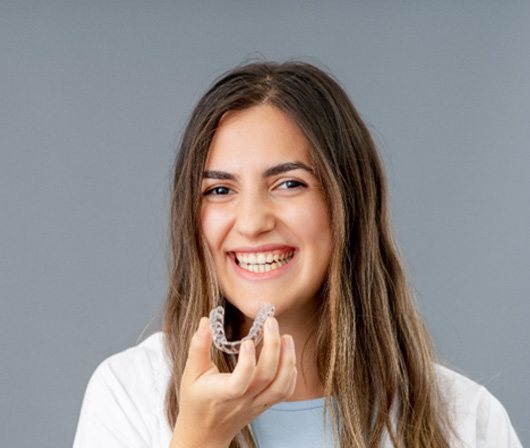 There are several reasons more than 12 million patients have chosen Invisalign for their smile goals. Here are a few to consider:
Discreet appearance
Shorter average treatment timeline
No dietary restrictions
Fewer check-in appointments
Less discomfort
Hassle-free oral hygiene
Incredibly Discreet Appearance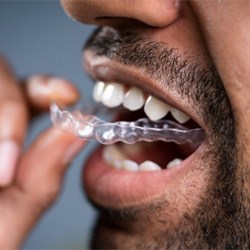 Invisalign is practically invisible when wearing them. Unlike traditional braces, which consist of bulky and noticeable metal brackets and wires, clear aligners will be constructed out of smooth plastic that'll be specifically designed to match the rest of your smile. Your friends, coworkers, and family members may not even realize that you're undergoing this orthodontic treatment unless you point it out to them!
Achieve a Straighter Smile In No Time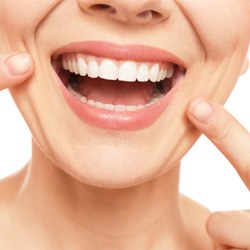 On average, the treatment timeframe for traditional braces is around 18 and 36 months. With Invisalign, you can expect to achieve a straightened smile in a much shorter time. Generally speaking, most clear aligner patients can accomplish their results in about 12 to 18 months. Of course, your treatment timeline will vary depending on several factors, such as the complexity of your orthodontic concerns and your adherence to the process. Our team will give you a more precise timeframe estimate during your initial consultation.
No Dietary Restrictions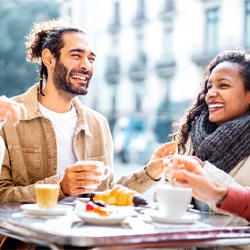 Most patients with traditional braces have to be cautious about what they eat and drink. Some beverages can have negative effects on the metal wires and certain foods can damage the brackets. However, with Invisalign aligners, you won't have to worry about any restrictions to your diet! Since you can remove them at any time, this means you can enjoy all your favorite meals throughout your orthodontic process. Just be sure to clean your teeth and aligners before putting them back on!
Fewer Check-In Visits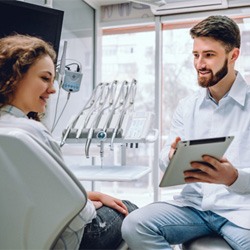 Unlike with traditional braces, you won't have to see your orthodontist as often when undergoing the Invisalign process. This is because you'll typically be given several trays to work through, each gradually shifting your teeth into better alignment. You'll only need to see your orthodontist every few weeks to monitor your progress and provide you with the next series of aligners. With this, you can enjoy a more open schedule throughout the process.
A More Comfortable Process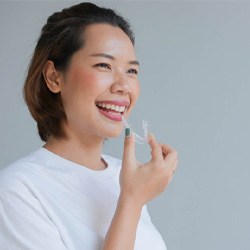 While traditional braces are incredibly efficient at straightening smiles, some patients experience some discomfort during the treatment. In some instances, the wires and brackets can be abrasive against soft oral tissues, increasing the risk of scraping the insides of the cheek. Invisalign aligners, however, are smooth, providing a more comfortable option for your lips, gums, tongue, and cheeks.
Hassle-Free Brushing & Flossing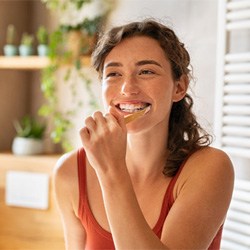 It can sometimes be difficult to avoid oral health issues like cavities and gum disease while wearing traditional metal braces. This is because the wires and brackets can get in the way of your normal cleaning routine, making it challenging to reach areas you normally could without them. Since Invisalign is removable, you'll be free to brush and floss your pearly whites easily like before, effectively preventing oral health problems along the way!
Understanding the Cost of Invisalign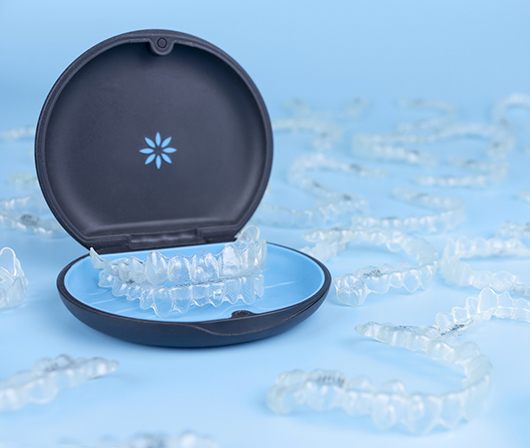 Invisalign is an excellent orthodontic option for image-conscious adult patients, but how much will you need to pay for it? This is not a simple question to answer, as there are a few different factors to consider, and an estimate can only really be arrived at after we've examined your mouth and figured out what your needs are. We'll only begin the Invisalign process after you have a firm idea of how much it will cost and are aware of what payment options are available to you.
Factors That Affect the Cost of Invisalign
The amount you pay for Invisalign treatment will vary based on multiple factors, with some of the main ones being:
The number of aligners needed, which is largely based on the kind of dental misalignment and how severe it is.
Whether the treatment is for a single arch or both, with a single arch treatment usually carrying a lower cost.
Whether you lose any of your aligners, as you may have to pay for a replacement.
Whether your aligners come with elastics or other accessories deemed necessary to make specific changes.
Are Do-It-Yourself Aligners Cheaper?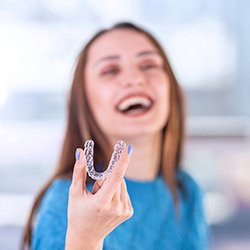 You may have heard of the SmileDirectClub™, which offers do-it-yourself aligners that are sent directly to your mailing address. Do-it-yourself aligners are generally cheaper than Invisalign, but remember that cheaper isn't always better. Because the do-it-your-self aligners are made out of a cheaper material, they may be more prone to breaking and don't offer the same efficiency in moving the teeth. In some cases, they've actually been known to make dental alignment problems worse, and the issue can take thousands of dollars to fix. With Invisalign, you're not just paying for the aligner; you're also paying for the oversight and support of a dental team that will actively work to make your treatment a success.
Does Dental Insurance Cover Invisalign?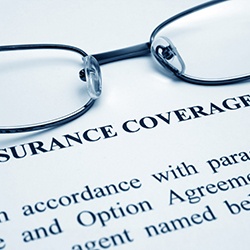 The short answer is that it might, but you need to confirm with your insurance company to be sure. It's common for dental insurance plans to offer once-in-a-lifetime coverage for orthodontic treatment, and that might include Invisalign. Our team will review your coverage with you and help you find the best way to use it to your advantage.
Options for Making Invisalign Affordable
We file claims for all kinds of dental insurance companies, but if you're uninsured or don't have orthodontic coverage under your current plan, we can offer other ways to make Invisalign more affordable. At our practice, you can sign up for in-house financing with us. You'll get a payment plan based on the number of months involved in your treatment, and there will be no interest to worry about. We can also help you apply for LendingClub, a third-party financing company that helps patients pay for a wide variety of treatments. Invisalign is meant to be a more convenient alternative to braces, so it's only right that paying for it be as convenient as possible as well!
Invisalign FAQs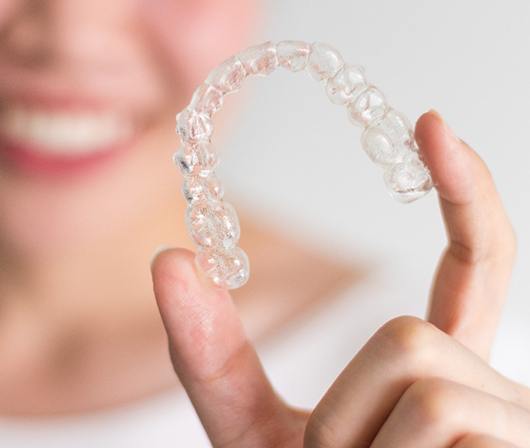 Learning you are eligible for treatment with Invisalign in Lakewood can be an exciting discovery, especially if you feared the only way you'd ever see straight teeth is with metal brackets and wires. But before you start the process of wearing your clear aligners, you probably have some questions about treatment and what you can expect before, during, and after. Dr. Simon and her team want you to feel completely confident in your decision to move forward with Invisalign, which is why she has compiled some FAQs. After reviewing the following information, should you have any additional questions, please do not hesitate to contact a member of our team.
Will my dental insurance cover the cost of treatment?
You will need to check with your insurance company to find out if they offer orthodontic coverage or not. You'll be pleased to learn that most dental plans do offer available coverage. So when you are preparing to begin treatment, you can trust that our team of experts will file any necessary claims on your behalf as well as more thoroughly explain your coverage should you be required to pay anything out of pocket.
How often will I be expected to see the orthodontist while wearing Invisalign?
You will likely need to see your orthodontist in Lakewood every 8-10 weeks while undergoing Invisalign treatment. Most visits are quick and easy, as Dr. Simon will simply need to examine your teeth and determine if the aligners are moving your teeth as planned. Should any adjustments need to be made, we'll get a scan for new aligners and schedule a longer appointment to place new attachments as necessary.
How should I clean my aligners?
If you would like to purchase the Invisalign Cleaning Crystals to keep your trays free of debris, you're more than welcome to do so. However, you can also opt for a more cost-effective solution that involves using a soft-bristled toothbrush, clear soap, and lukewarm water. By gently cleaning your trays throughout the day, you can remove dried saliva, bacteria, and other debris from your aligners, reducing the risk of transferring anything harmful to your teeth. Just remember, never use hot water when cleaning your trays, as this can warp the plastic and damage your aligners.
What should I do if I accidentally damage or lose an aligner?
Should you accidentally throw away your aligner or damage it, don't worry. While it's not an ideal situation, it's certainly nothing that should launch you into panic mode. Depending on where you are in your treatment, it may be fine to go ahead and start wearing the next set in the series. However, if you just recently started wearing this new tray, it may be necessary for us to create a replacement one for you. No matter the timeline, make sure to contact us. We will be able to determine your next steps based on how long you've been wearing the current tray.
Will I need to wear a retainer?
Every patient who completes any sort of orthodontic treatment needs to wear a retainer in order to help keep the teeth in their new position. Depending on your needs and preference, Dr. Simon will choose the right form of oral retention for you. Why is it necessary? Because your teeth can easily begin to shift back into their original position if you're not careful. A retainer helps to keep your smile in place. In the beginning, you will need to wear it full time. As the months go by, it may be possible to wear it only at night while you are asleep.