Invisalign Teen – Dallas, TX
Clear Aligners for Developing Smiles
It's hard enough being a teenager nowadays. Add in the realization of needing braces to fix misaligned teeth, and your teen might feel as if they'll never be able to show their face at school again. Fortunately, at Lakewood Orthodontics, Dr. Patricia Simon and her team of professionals can offer an alternative solution that will keep your teen feeling more confident about their upcoming treatment. With Invisalign Teen, there's no need to feel embarrassed or even change daily habits. These flexible and clear, plastic aligners make it easy for busy and self-conscious teens to achieve healthier smiles without compromising their daily appearance. Contact our team today to learn if your teen is eligible for Invisalign in Lakewood.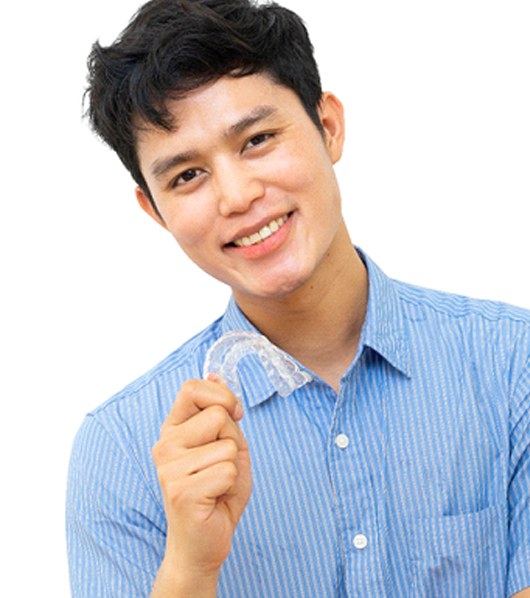 Why Choose Lakewood Orthodontics for Invisalign Teen?
Trusted professional with years of clinical training and experience
Subtle and discreet aligners customized to your teen's smile
Greater flexibility that offers no diet restrictions
How Does Invisalign Teen Work?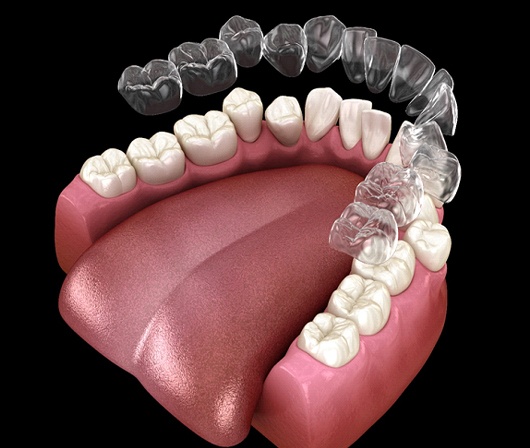 As an alternative orthodontic solution to metal braces, Invisalign Teen is proven effective at treating overcrowding, gapped teeth, and misaligned bites (i.e., overbite, underbite, crossbite, open bite). To determine if your teenager is eligible for treatment, the first step is to schedule a consultation with Dr. Simon. Once cleared for treatment, your child's orthodontist in Lakewood will use a digital scanner to create a digital model of their teeth, which will be used to create your teen's customized aligners.
After several weeks, you and your teen will return to our office for a formal fitting and retrieval of the Invisalign set of aligners. It will be necessary for your teen to wear their aligners for 20-22 hours each day, as this will allow for gentle, yet continuous pressure to be applied to their teeth. After two weeks, they will swap out their set for the next in the series.
Invisalign aligners are designed to be a flexible method of treatment, which means your teen will need to remove their trays before eating, drinking (anything but water), or cleaning. Throughout treatment, their teeth will gradually move in the right direction, putting them one step closer to a healthier, more perfectly aligned smile.
It is also necessary for them to visit our office for follow-up appointments. The frequency of these visits will be determined by Dr. Simon but should take little time, as there are no metal wires to adjust, replace, or tighten.
Once your teen is finished with treatment, they will be required to wear a retainer to help keep their teeth firmly in their new position.
Benefits for Teenagers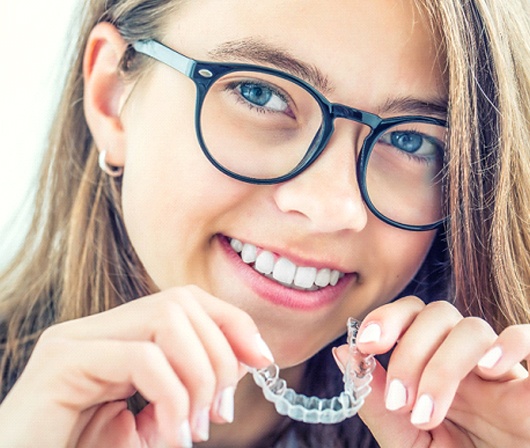 Invisalign Teen offers self-conscious teenagers a way to enjoy orthodontic treatment and avoid the glaring spotlight that metal brackets and wires can cause. Many of the benefits that come with Invisalign include:
Better oral health – By bringing teeth into proper alignment, it makes it easier to keep them clean and healthy, reducing the potential for tooth decay, gum disease, excessive wear and tear on tooth enamel, and chronic jaw pain.
Flexible treatment option – Instead of traditional braces that cannot come off, Invisalign aligners may be removed before eating or drinking. Teens may also remove their trays before a game or when playing an instrument.
Increased comfort – Unlike metal brackets and wires that can rub against soft oral tissues, Invisalign is made of smooth, clear plastic, causing less irritation to the gum, cheeks, lips, and tongue.
No food restrictions – Your teen won't have to worry about picking food out of their braces because their aligners will be safely kept in a protective case while eating. This means they can enjoy the foods they love without worry.
Differences Between Traditional Invisalign and Invisalign Teen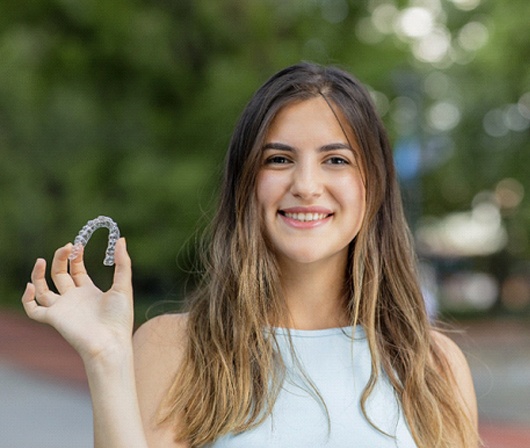 Although Invisalign and Invisalign Teen are quite similar in how they look and function, there are a few key differences between the two systems:
Invisalign Teen aligners come with a color indicator that exists toward the back of the aligner. While wearing, the color will fade, allowing Dr. Simon to better evaluate their progress.
Invisalign Teen can be an ideal solution for young people who have teeth that are still erupting, as they are designed to allow for new teeth to move into position without causing additional alignment issues.