October 23, 2020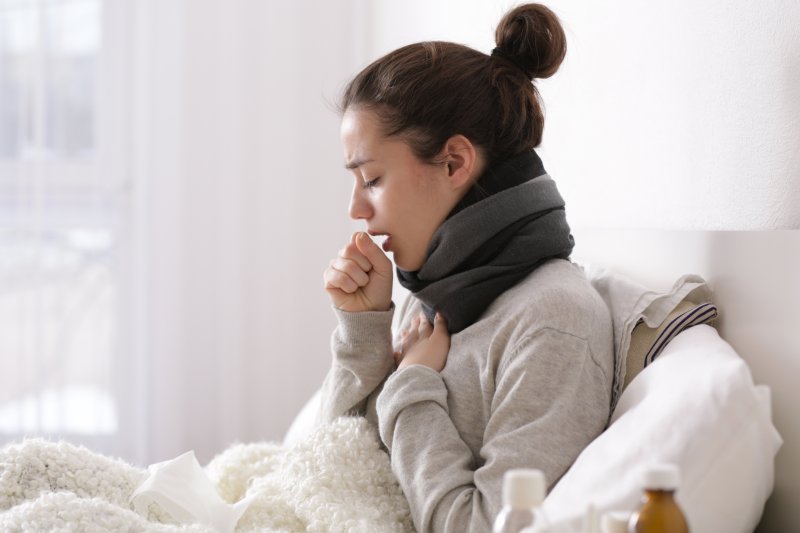 The dip in temperature means cozy nights by the fire and warm coffee in the morning. But it also means cold and flu season is just around the corner! Therefore, when you start to feel a little tickle in the back of your throat or a stuffy nose has you reaching for the tissue box every couple of minutes, priority number one is getting healthy. If you have Invisalign in Lakewood, here are a few tips to help protect your oral and overall health this season.
#1. Practice Proper Hand Hygiene
Hand hygiene is crucial year-round. However, it is especially important if you have Invisalign since you use your hands to pop your trays in and out, exposing your mouth to bacteria and germs. Therefore, make sure to wash your hands frequently and use hand sanitizer when that isn't possible (like in your car). Plus, you can use an OrthoKey, which allows you to remove your aligners hands-free.
#2. Drink Plenty of Water
Staying hydrated is essential when battling a cold or flu. Not only will drinking plenty of water wash away food particles and debris, but it will also prevent decreased saliva production due to breathing through your mouth. Plus, other symptoms of being sick, like blowing your nose or vomiting, rids your body of liquid, which can quickly lead to dehydration. So, make sure to always keep a glass of water nearby!
#3. Keep the Bad Stuff Off Your Teeth
From cough drops to liquid medicine, many cold and flu remedies are loaded with sugar. While this does make the taste more manageable, it also leaves your teeth vulnerable to tooth decay and cavities. Therefore, make sure to always brush and floss your teeth before bed. Another best practice is to opt for sugar-free alternatives when possible!
#4. Stock Up on the Essentials
Tissues and comfortable clothes are a few staples of being sick. However, there are a few essentials you should keep on hand if you have Invisalign:
Orthowax, which protects your gums and the inside of your cheeks.
Lip balm to prevent painful, chapped, or bleeding lips.
Hand sanitizer and sanitizing wipes to keep your hands and surroundings clean.
Floss picks to prevent plaque and bacteria from hiding between your teeth.
Cold and flu season can lead to long nights of coughing and seemingly endless days of blowing your nose. However, using the above tips can help patients with Invisalign get healthy!
About the Author
After completing her undergraduate degree, Dr. Patricia A. Simon pursued her Doctor of Dental Surgery at the State University of New York at Buffalo School of Dental Medicine. Over the last 25+ years, she has continued to stay up to date on the latest technology and techniques through numerous hours of continuing education. If you are looking for an orthodontist in Lakewood, don't hesitate to visit her website or give her a call at 214-826-9000.
Comments Off

on 4 Tips for Surviving Cold & Flu Season With Invisalign
No Comments
No comments yet.
RSS feed for comments on this post.
Sorry, the comment form is closed at this time.