June 1, 2021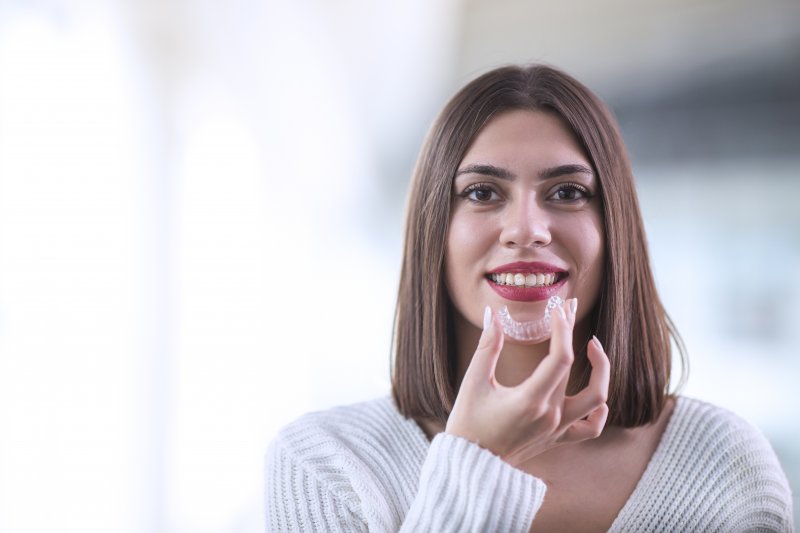 Now that you have started treatment with Invisalign clear aligners in Dallas, you are eager to see results. But are you aware of what you need to do to care for your trays? Do you know how to properly clean them or where to store your aligners when eating or drinking? Understanding how to safeguard your Invisalign as well as your smile is necessary if you want to avoid a potential delay in treatment. To help you on your journey, here are 4 tips to follow that will ensure your teeth remain on the path to better alignment.
Keep Them in a Protective Case
While wearing Invisalign aligners, you are expected to remove your trays before eating or drinking. As a result, you must make sure that you have a place to store them to avoid damage or loss. You may be tempted to just fold them up in a napkin, but it's easy to forget and accidentally throw them away. By purchasing a protective case in the beginning, you can avoid the potential need for replacement aligners along the way.
Clean Your Trays in the Morning and at Night
The decision to wear Invisalign requires that you commit to maintaining good oral hygiene and keeping your aligners clean throughout the day. When waking in the morning, make sure to not only thoroughly clean your teeth and gums by brushing with fluoride toothpaste and flossing to remove bacteria that accumulate throughout the night but also, take the time to clean your trays. That same bacteria on your teeth is also on your aligners. If you do not remove it with a soft-bristled toothbrush, clear soap, and lukewarm water, the harmful particles will transfer onto your newly cleaned teeth. The same process should be followed before going to bed at night.
Consider Your Treatment Timeline When Planning Trips
If you and your family are preparing to leave on summer vacation, make sure you bring with you the next set in your series. Since your orthodontist in Dallas will tell you how long to wear each set (i.e., 1-2 weeks), you don't want to forget to bring the next aligners in the series and be faced with a delay in treatment. You'll need to determine how long you'll be gone to figure out how many sets you'll need to bring with you.
Make Sure to Soak Your Aligners Once a Day
It's strongly advised that you soak your aligners in Invisalign cleaning crystals or a denture cleaner at least once a day. Because it is easy for bacteria to form on your trays throughout the day, it is helpful to let them soak for a short time. Before reinserting them into your mouth, make sure to use a different soft-bristled toothbrush to remove plaque or food particles before rinsing them off.
By keeping these helpful tips in mind, you can be well on your way to completing your Invisalign treatment according to plan. While hiccups can occur along the way, make sure to remain in close contact with your orthodontist to avoid any serious delays.
About the Author
Dr. Patricia Simon is an orthodontist in Dallas who earned her Doctor of Dental Surgery degree from State University of New York at Buffalo School of Dental Medicine. After finishing her Orthodontic Residency at Boston University, she completed a fellowship in Craniofacial and Dentofacial Abnormalities at the University of Texas Southwestern Medical Center. With more than 25 years of experience in the field of orthodontics, she has also spent time as a full-time faculty member at UT Southwestern Medical Center in the Division of Orla and Maxillofacial Surgery. If you are interested in straightening your smile with Invisalign, visit our website or call (214) 826-9000.
Comments Off

on 4 Tips Designed to Help You Take Better Care of Your Invisalign Clear Aligners
No Comments
No comments yet.
RSS feed for comments on this post.
Sorry, the comment form is closed at this time.