April 20, 2022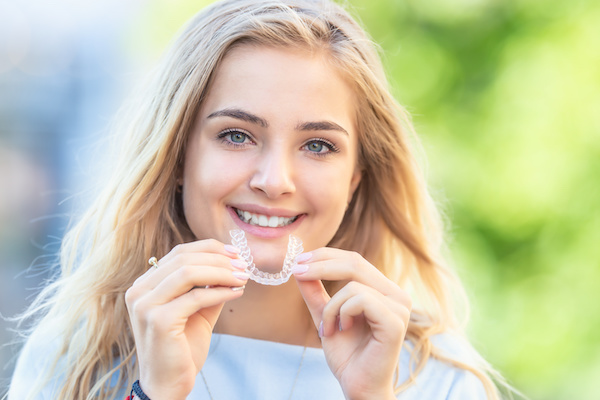 Invisalign is a wonderful way to straighten your teeth subtly. It uses a series of clear plastic aligners to gradually shift the teeth into their optimal position. Many adults and older teens choose this option to avoid wearing visible braces. Once you are finished wearing the aligners after about 9 months, using the prescribed retainer as directed is just as important as following the original treatment plan. 
Keep reading to learn more about retainers, including what your options are and how long you will need to wear yours.
Your Retainer Options after Invisalign
A retainer is a device that prevents your teeth from shifting back into their original position. When worn as directed, it will help you enjoy your beautiful results for years and years to come.
There are a few options in retainers. They include:
Fixed Invisalign retainer: This is a thin wire that is affixed to the back of the teeth. One big benefit of this option is that you do not have to worry about remembering to put it in.
Clear removable retainers: These look just like the Invisalign aligners. This option is nice because patients are already in the habit of wearing this type of device, which makes adoption easy.
Hawley retainer: This is a metal device that goes over the teeth. Most patients usually do not opt for this option after Invisalign since it is visible.
How Long You Will Need a Retainer
No matter which option is best for you, the general recommendation is to wear a retainer almost full-time immediately after the Invisalign treatment is complete. This is because your teeth are still especially vulnerable to movement and will easily shift back if not held in place for the majority of the day and at night.
After a while, you can start to wear the retainer just at night (only as directed by your orthodontist). Once more time has passed, you may be able to wear the retainer every two to four nights – but this will depend on your specific needs and how vulnerable your teeth are to shifting. If the retainer is very tight upon reinsertion, that means the teeth have moved and you may need to increase your usage time.
In general, wearing a retainer is a lifelong commitment. After a while, you will be in the habit and popping it in at night will be second nature. You will know it's worth it for a lifetime of beautiful smiles!
Meet the Orthodontist
Dr. Patricia Simon received her Doctor of Dental Surgery at State University of New York at Buffalo School of Dental Medicine and completed an Orthodontics residency at Boston University. She is passionate about helping her patients enjoy healthy, beautiful smiles through orthodontics. To learn more about Invisalign, including whether or not you are a candidate, do not hesitate to reach out to Lakewood Orthodontics, PA at (214) 826-9000.
Comments Off

on How Long to Wear a Retainer Following Invisalign Treatment
No Comments
No comments yet.
RSS feed for comments on this post.
Sorry, the comment form is closed at this time.