November 27, 2021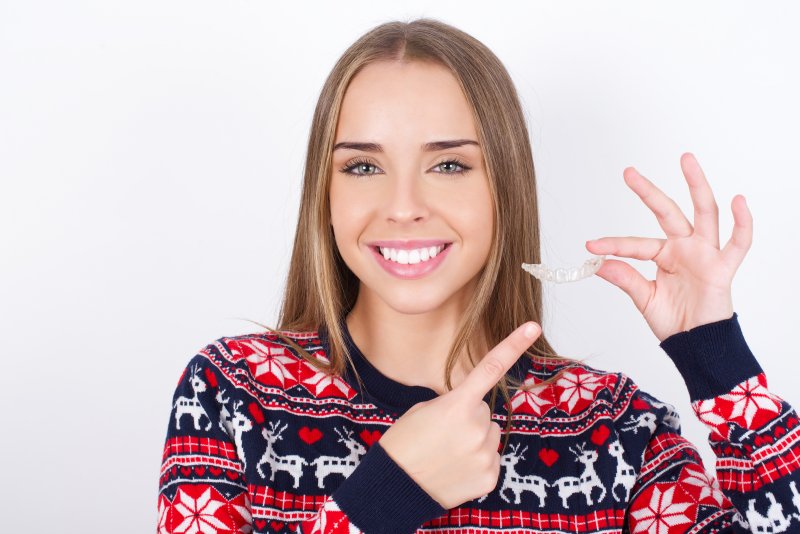 Whether you're planning to go visit family for the holidays or stay at home and play host to various friends this year, you may become so wrapped up in the festivities you forget to follow your Invisalign routine. To avoid a potential delay, here are four unique tips to keep in mind as you navigate the holidays while wearing Invisalign in Lakewood.
Keep Your Protective Case Nearby
Cooking often requires tasting to ensure everything tastes right and is properly prepared. If you are responsible for any dish this year, make sure to remove your aligners before tasting. But instead of laying them on the countertop where they might easily be knocked off or damaged, place them in your protective case. Keeping it nearby will ensure your aligners remain protected even while among busy cookers and bakers in the kitchen.
Make Time to Brush and Floss
The holidays are a time for snacking, but if you're wearing Invisalign, you'll want to be more diligent about staying away from this practice if possible. However, whether you're indulging in a small treat or enjoying the main meal, you'll want to make sure you brush and floss afterward. This will keep foods and beverages from sticking to your teeth and potentially transferring onto your aligners.
If you're busy traveling and find yourself in the airport bathroom, use your travel-sized toothpaste to quickly clean your teeth while waiting for your flight. With so many smaller products available these days, there's no excuse not to keep your teeth clean while wearing Invisalign.
Make Sure to Wear Your Aligners
It can be tempting to remove your aligners before eating and "forget" to put them back in. However, the longer you wait to reinsert them into your mouth, the greater the risk for a delay in treatment. All patients with Invisalign must wear their trays 20-22 hours each day. Forgetting or refusing to put your aligners back in will cost you time and money, and you're already making quite the investment to straighten your teeth with this clear solution, so don't sabotage your efforts. Wear your Invisalign in Dallas according to your orthodontist's suggestions.
Be Mindful of Your Aligners While Eating and Drinking
Just like we mentioned previously that you should remove your trays before tasting the dish you're preparing, you should also keep them out while eating a meal or consuming anything other than water. Should you accidentally forget to take them out and you eat something hot, it can warp the plastic and make your aligners no longer comfortable or effective. Remembering to remove your trays before eating or drinking will not only protect them from damage but also keep you from prolonging your treatment.
The holidays are a time for fun and excitement. but you'll need to maintain a level of responsibility and commitment when choosing to wear Invisalign. After all, you're working toward straighter, healthier teeth, so stay the course and welcome the new year with a showstopping smile.
About the Author
Dr. Patricia Simon is an orthodontist in Dallas who earned her Doctor of Dental Surgery degree from State University of New York at Buffalo School of Dental Medicine. After finishing her Orthodontic Residency at Boston University, she completed a fellowship in Craniofacial and Dentofacial Abnormalities at the University of Texas Southwestern Medical Center. With more than 25 years of experience in the field of orthodontics, she has also spent time as a full-time faculty member at UT Southwestern Medical Center in the Division of Orla and Maxillofacial Surgery. If you are interested in straightening your smile with Invisalign, visit our website or call (214) 826-9000.
Comments Off

on 4 Tips to Help You Maintain Success with Invisalign During the Holidays
No Comments
No comments yet.
RSS feed for comments on this post.
Sorry, the comment form is closed at this time.