June 4, 2022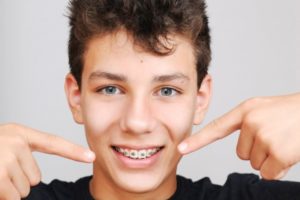 Overlapping, gapped, and misaligned teeth are just a few of the many orthodontic issues that braces can correct. In fact, the traditional metal brackets and wires can fix everything from a minor gap to severely rotated teeth. There is, however, one drawback: mouth sores. Fortunately, this is largely avoidable with the right best practices in place. With this in mind, keep reading to learn four tips from your orthodontist in Dallas for preventing mouth sores with braces.
#1. Brush and Floss Daily
Simply put, the cleaner your mouth is, the less likely an ulcer will form. However, keeping your braces free from food particles and debris isn't always easy. That's why it is of the utmost importance that you commit to a solid at-home oral hygiene routine. Make sure to brush after every meal (or at least twice a day) and floss daily.
#2. Rinse and Disinfect Throughout the Day
Another way to keep your mouth clean is by rinsing throughout the day (especially if you can't brush and floss your teeth after lunch due to work or school). Simply swish an oral rinse or water around in your mouth for 30-60 seconds before spitting it out. Not only will this promote a clean mouth, but it will also prevent food particles from aggravating existing sores.
#3. Apply Orthodontic Wax
If you have braces, it's always a good idea to keep orthodontic wax within arm's reach. That way, whether a bracket begins to irritate your gums, or a wire starts poking the soft tissue in your mouth, you can quickly place the wax around the sharp edge to prevent further damage. Plus, since the base of the product is water-resistant, you won't have to worry about it slipping out of place throughout the day!
#4. Drink Plenty of Water
Did you know saliva has antibacterial components? It's true! Therefore, healthy saliva production is essential to preventing the onset of ulcers in your mouth. Fortunately, something as simple as staying hydrated can stimulate the production of saliva.
Mouth sores with braces can be quite a nuisance. However, they are a small price to pay for a straight, healthy, beautiful smile! To make your time with braces as comfortable as possible, make sure to keep the aforementioned tips in mind to help prevent them altogether.
About the Author
Dr. Patricia Simon earned her dental doctorate from the State University of New York at Buffalo. She did her orthodontic residency at Boston University and has been practicing orthodontics for more than 25 years. She is a member of the American Dental Association and the American Association of Orthodontists. Dr. Simon offers traditional metal braces, ceramic braces, self-ligating braces, and Invisalign. Schedule a consultation on her website or call (214) 826-9000.
Comments Off

on Must-Know Tips for Preventing Mouth Sores with Braces
No Comments
No comments yet.
RSS feed for comments on this post.
Sorry, the comment form is closed at this time.