March 4, 2022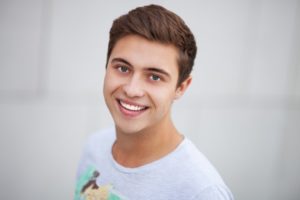 The day has finally arrived – your braces are coming off and it's happening before your senior year of high school is over just as you'd hoped! While this is a big moment, it doesn't exactly mean that your orthodontic journey is finished. Your smile is much straighter now, but there's still some work to do. As your orthodontist in Lakewood reminds you, there are a few crucial steps to ensure that these results you've invested the time in never fade away. Here's what to expect when it comes to adjusting to life after braces.
Am I Supposed to Wear Something After I Get My Braces Off?
After your braces are removed, you'll need to wear a retainer to preserve your new smile. It's an orthodontic tool that helps keep your teeth from shifting back to their position prior to treatment. Essentially, you can view retainers as an insurance plan for life after braces. Shortly before they come off, you and your orthodontist will discuss your options and decide on the best type of retainer for your lifestyle.
Here are two options available to most patients:
Fixed Retainers – These are bonded to the back of your teeth, making them virtually invisible. They're most commonly used for bottom teeth. Keep in mind that fixed retainers are not permanent and can be removed within a few months or years.
Removable Retainers – These are commonly used for the top teeth and only need to be worn at nighttime. Depending on your needs, your orthodontist may recommend a specific treatment plan to keep your teeth aligned.
How Will My Teeth Feel?
For the entire duration of your orthodontic treatment, your teeth have been under constant tension to move into the correct position. As a result, your pearly whites will feel quite different once your braces come off. They'll likely feel more exposed and sensitive for a while afterward. That said, you may want to give yourself some time to adjust to life after braces before eating crunchy or chewy foods.
What Do I Need to Know About Eating?
While undergoing orthodontic treatment, you were advised to stay away from certain foods and drinks. Well, once your braces are removed, you're free to enjoy these foods once again! That means you can bite into an apple, munch on corn on the cob, or indulge in a handful of crunchy chips if you want to. Now that your braces are off, you no longer have to worry about avoiding these snacks.
What About the Color of My Teeth?
Even if you were diligent about brushing and flossing while wearing braces, your teeth may still look discolored once they're removed. But don't worry – it's completely normal! If you're particularly concerned by it, your orthodontist may recommend some form of professional whitening to fix the issue. However, since your teeth will be sensitive immediately following the removal of your braces, you'll have to wait 1-2 months before getting a whitening treatment.
If you want to maintain that beautiful smile you've invested so much time in through college and beyond, you must take proper care of your teeth after your braces are removed. It's the best way to ensure your hard-earned results are here to stay and you enjoy life after braces!
About the Author
Dr. Patricia Simon earned her dental doctorate from the State University of New York at Buffalo. She did her orthodontic residency at Boston University and has been practicing orthodontics for more than 25 years. She is a member of the American Dental Association and the American Association of Orthodontists. Dr. Simon offers traditional metal braces, ceramic braces, self-ligating braces, and Invisalign. Plus, she can explain what life after braces will be like once you've completed any of those treatments. Schedule a complimentary consultation on her website or by calling (214) 826-9000.
Comments Off

on What's Life After Braces Like?
No Comments
No comments yet.
RSS feed for comments on this post.
Sorry, the comment form is closed at this time.